*Kym is the author of the upcoming novels Wanted: Dead or In Love and One Smart Cookie. For more information, please check here:
You know it's true. Every year, your wonderful (ahem) but crazy, bossy, manner-lacking, stranger-than-fiction relatives come into town and it's your job to host them or entertain them for part of the time. There's no getting around this, so how can you survive the week without strangling them?
Let's nail down some basic rules of a strangle-free 'Tis the Season yearly visit:
My new fave? Pineapple Upside-Down Shot (or Martini)
The moment I tasted it a few months back, I was immediately reminded of my sweet, 20-year-departed, grandmother. (Hi Gram! Miss you! You weren't one of the weird relatives, I swear. When you kept your mile-long hair swept up in a cute bun and you wore your apron, you looked like a grandma version of Angelina Jolie in Mr. and Mrs. Smith.)
TRUE CONFESSION:

I didn't actually like her pineapple-upside-down cake as a kid (does any kid, really?) but somehow time heals all taste buds. Now I say…YUM! (Triple for a martini-style cocktail.)
Drink two or three of these and you can easily block out all the rambling of talkative Uncle GoesOnAndOn.
Here's how I call the shot:
1 oz. vanilla cake vodka (UV or Pinnacle)
2. WATCH HOLIDAY MOVIES ON TV
The more time you watch holiday movies, the less you have to entertain them.

I don't have a favorite – I prefer to go to the movies and see whatever's playing (see #5) – but this scene from the holiday classic, "When Harry Met Sally," is pretty memorable. If nothing else, it ought to make everyone quiet for at least two minutes. Snicker…
3) GO TO YOUR BIGGEST LOCAL TOWN TO SEE THE HOLIDAY DECORATIONS:
Most towns do something to commemorate the holiday season. Check out these two lovely examples:
I never said they'd be good! Since I'm lucky enough to live in the Chicago area, it's downtown it is for me. Not too shabby.
Apples to Apples
is our family favorite. We make the person who gave the worst answer for each round drink a sh
ot, but maybe that's just our family. (Are you seeing the theme here?)
5) GO SEE A NEW HOLIDAY MOVIE
….and for the BEST results, go to a theater that serves alcohol. (see # 1)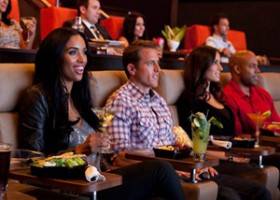 SO THERE YOU HAVE MY TOP 5 LIST OF SURVIVING WEIRD RELATIVES! Now you can greet them with a smile (and a hidden bottle of your favorite holiday spirit). Enjoy!